What is StarkWare? Things to know about STK token
What is StarkWare?
StarkWare is a Layer-2 ZK-Rollup powered by STARK decentralized, permissionless and censorship resistant, supporting general computation on Ethereum. It is based on the Turing-complete Cairo language.
Developers, Users and Nodes StarkNet should be able to do everything one would expect from the L2 Compilation.
The way StarkWare does it is solve the hard problems first, build the core technology, then put it into production in a piecemeal fashion, and they'll build it this way when StarkNet is done.
Way StarkWare problem solving
Developers can build their own business logic implementation applications and deploy them on StarkNet. Users can send transactions to StarkNet for execution, just as they interact with Ethereum today. StarkNet nodes and participants will be crypto-economically incentivized to ensure the network operates efficiently and fairly.
All StarkNet transactions will be forked periodically and their validity will be demonstrated in the STARK proof, which will be verified on Ethereum. Since the computational effort required to verify the STARK proofs is exponentially small compared to the proven computation, StarkNet will scale Ethereum by large orders of magnitude.
Because of all the state transitions StarkNet will be STARK proof so only valid conversions will be accepted on Ethereum. All data required to recreate the full StarkNet state will be published on the blockchain. Anyone can run their own StarkNet node. These attributes will make StarkNet secure and permissionless like Ethereum.
Basic information about the project StarkWare
Project development team
The project is run by a fairly powerful team.
Eli Ben-Sasson: Eli is the co-founder and chairman of StarkWare, as well as the Chairman of its Board of Directors. For many years, Eli held research positions at the Institute for Advanced Study at Princeton, Harvard, and MIT. Eli is the co-inventor of the STARK, FRI and Zerocash protocols.
Uri Kolodny: Uri is the co-founder and CEO at StarkWare, who has co-founded several technology companies, among them OmniGuide (an MIT company that develops optical fibers for laparoscopic surgery) and Mondria (developer of endoscopic surgery). big data visualization tools). Previously, Uri also served as EIR with two Israeli VC firms and was an analyst at McKinsey.
And a number of other outstanding individuals.
Some milestones of the project
The project team expects to implement Step I in a few short months and will progress to Steps II & III by the end of 2021.
Twitter was founded in January 2018 and currently has 23,000 followers.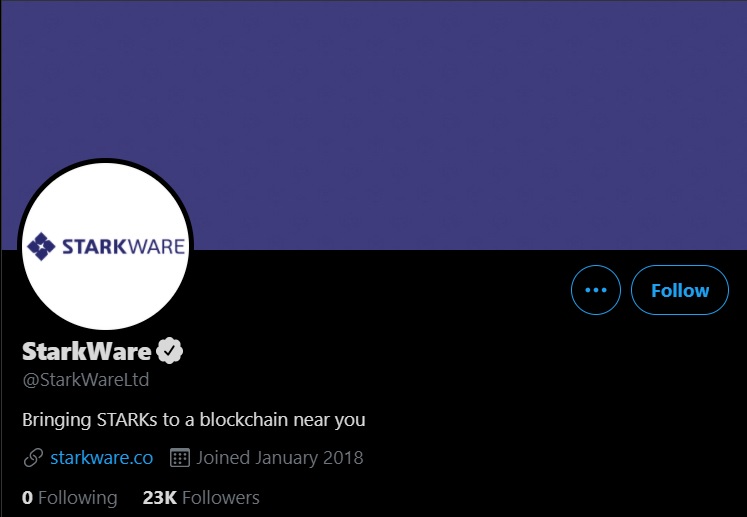 Investor of the project
The project is invested by many famous names, among them are Coinbase Ventures, Alameda research, ConsenSys Ventures, intel Capital,,….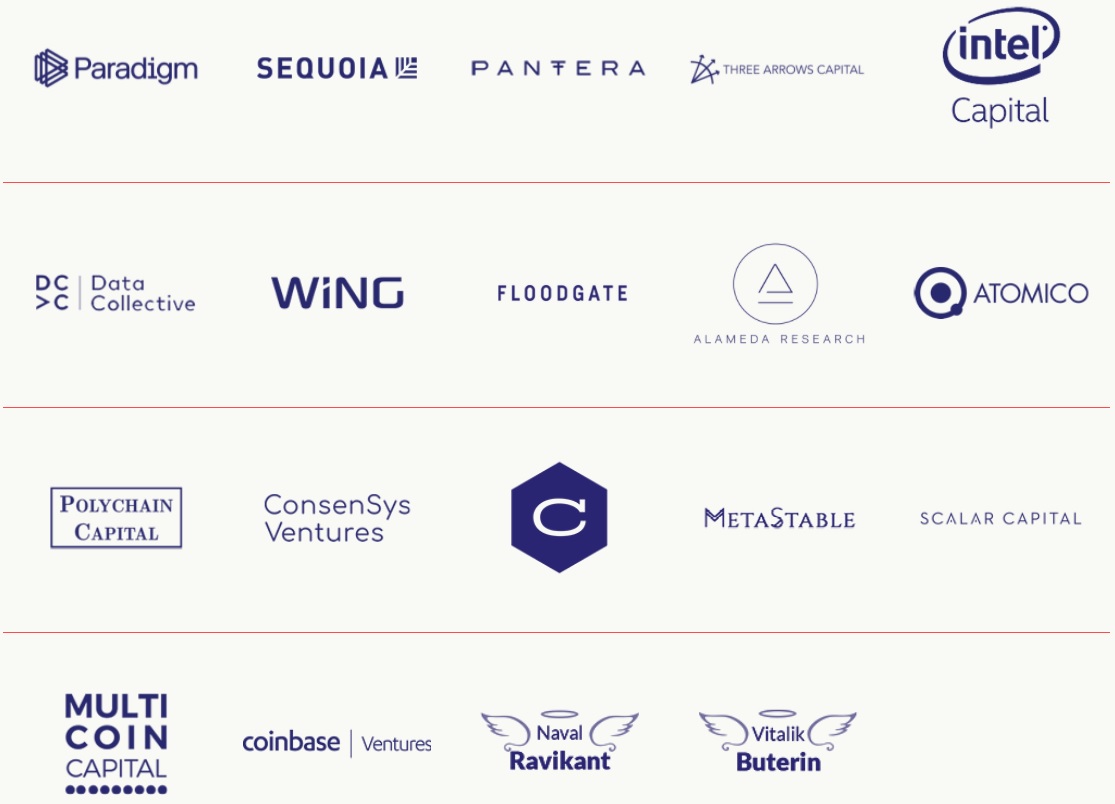 Having such quality names in the investor team partly confirms the quality of the project.
Roadmap of the project
They are building StarkNet in 4 steps:
Step 0 – Base (complete *)
Step I – Planets: An App Compilation
Step II – Constellations: A Compilation of Applications
Step III – Universe: A Hierarchical Compilation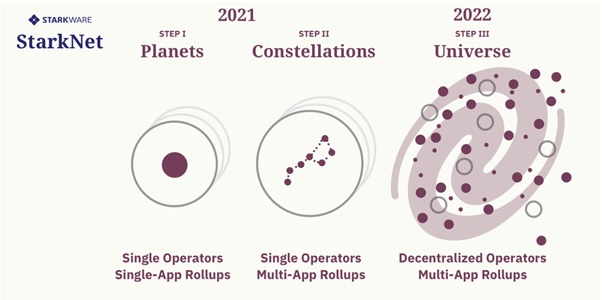 Step 0
StarkWare has finished laying some important groundwork for StarkNet.
Cairo is a Turing complete high-level framework & language for launching generic computational STARKs. Instead of manually crafting complex "circuits" or AIRs, an application developer can use Cairo to define any business logic, proven off-chain and verified on-chain. Cairo is being use on Mainnet and is also available to developers.
In a few weeks, StarkWare will launch on the public Ethereum test network the Alpha version of Cairo's General Proof Service (GPS). This will allow developers to build their own applications using Cairo, implementing whatever business logic they want. They will send their Cairo code to GPS to be verified, and then verified.
Cairo and GPS are the foundation of StarkNet – where it is decided for developers to give them early exposure to this technology, not only so they can start building on it but also possibly influence the development of StarkNet.
Step I
This step will allow developers to build and deploy their own scalable applications on top of StarkNet.
At this point, each StarkNet instance will be able to run a single application. Different instances can run different applications.
The StarkNet Framework will include the following:
Mechanisms needed to generate STARK proofs for arbitrary Cairo logic, and then submit and verify them on Ethereum.
Interacting with L1 Ethereum: depositing and withdrawing L1 tokens, publishing data on-chain, Exit Mechanism protects StarkNet users from malicious StarkNet miners, etc.
Manage L2 user balances and application storage and storage.
Developers will be able to just focus on building the business logic of their apps, and then move on to production: deploy and run it at scale on StarkNet.
What allows StarkWava to build a generically scalable ZK-Rollup is the combination of:
Cairo, is a general-purpose Turing complete programming language
Powerful STARK stack (methods and verifiers), allowing to pack huge calculations into a single proof
Step II
Cairo, the powerful STARK stack, and GPS amplify StarkNet's competitive advantage in supporting Multi-Application Compilation.
At this stage, StarkNet will be a fully functional framework to run much applications with any arbitrary business logic on Ethereum, with each instance being run by a single operator.
Step III
The final step in the development of StarkNet was to decentralize its operations.
Token Allocation
Updating…
Basic information about STK token
| | |
| --- | --- |
| Token Name | StarkWare |
| Ticker | STK |
| Blockchain | Ethereum |
| Token Standard | ERC-20 |
| Contract | 0x4F4807759401B6B84fba9970A73331f21b97E7C2 |
| Circulating Supply | 1,000,000,000 STK |
Conclude
StarkWare is building StarkNet, a STARK-powered decentralized L2 ZK-Rollup on Ethereum that supports common computing based on the Cairo language.
StarkNet will allow applications to scale without compromising security, users pay reasonable transaction fees, and the entire ecosystem will grow significantly and deliver on its promise.
Virtual Currency Corner
---
The opinions in this article are personal and do not constitute financial investment advice!