What is ApeNFT? Get an overview of the ApeNFT . project
What is ApeNFT?
ApeNFT is a platform for registering and encoding works of art as NFTs on the blockchain. Target of ApeNFT is to build a bridge between top artists and blockchain, while supporting the development of original artist NFTs.
It is estimated by the project that in the next 10 years about 50% of the world's top artists and artworks will be recorded as NFTs and NFTs. ApeNFT is the optimal support platform to do that.
ApeNFT powered by the leading blockchains Ethereum,TRON and the BitTorrent distributed data storage system.
Project ApeNFT
How it works ApeNFT
ApeNFT purchase well-known traditional and NFT works of art as the underlying asset and improve the work's NFT trading standard.
NFT artworks will be generated as unique on-chain ERC-721 or TRC-721 tokens.
The tokens will be stored in ERC20 or TRC20 smart contracts of NFT tokens and the rights and interests of the artworks will belong to the NFT holders.
The corresponding information of the ERC-721/ TRC-721 token and the records of the artwork will be stored permanently on the BTFS (BitTorrent File System) network. These files will be stored permanently on the Internet.
ApeNFT also supports and works with government agencies, universities, lawyers, etc. in promulgating the policies that govern the development of NFTs.
Highlights of APENFT
Nodes settings
To realize the NFT tokenization of works of art and solve the problems (centralized pricing, illiquidity and counterfeiting) in the current art market.
ApeNFT Set up multiple nodes including artworks, artists, community and committee of experts on blockchain. Each node has its own properties and functions.
Artworks and artists Nodes – Tokenization of artworks and artists. The artworks will be claimed and the provenance can be traced on the blockchain where users trade them.
Communities Nodes – A community built through the impact of leading artists, this will be a forum for art enthusiasts to exchange ideas, showcase valuable artworks and talented artists through self-management.
Committee of experts Nodes – Consists of artists, art enthusiasts, community starters, and industry experts, etc. These nodes have the function of valuing artworks, researching policies, and publishing newspapers. industry reports.
Institutions Nodes – set up for NFT auction houses including Christie's, Sotheby's and Nifty Gateway to precisely reach buyers and sellers of NFT art
ApeNFT own a collection of expensive works of art and convert into NFTs
The current collections of ApeNFT consists of: Femme nue couchee au collier by Pablo Picasso, Three Self-Portrait by Andy Warhol, Ocean Front and five Abundance works by crypto artist from Beeple and all NFT Cube set by crypto artist Pak, with a total value of over ¥200 million.


Traditional artwork storage area
Traditional works of art are ApeNFT redeem to convert into NFTs will be hosted by Helu-Trans Group – A leading art storage and processing service provider in Asia. Facilities in the storage area are applied with advanced technology such as helping to ensure the quality of the work and the security of the storage area:
Climate control
Fire/smoke detection
24-hour CCTV monitoring and motion detection
Specialized Registry and Barcode Traceability
Private viewing room and concierge service
Online security portal
Roadmap – Project's development roadmap
Phase 1: Building the infrastructure of the NFT ecosystem
ApeNFT adopt highly integrated, heavily invested infrastructure to ensure compatibility with ERC721 and TRC721 and build supporting facilities, giving advantages and competitiveness to ApeNFT.
Stage 2: Achieving widespread circulation and acceptance of NFTs
ApeNFT will list $NFT tokens on CEXs centralized exchanges and conduct rapid promotion in communities to help more users enjoy the benefits of the development of ApeNFT.
ApeNFT will also adopt voting and mining as a way to facilitate more democratic and decentralized governance.
Stage 3: Developing your business activities ApeNFT
ApeNFT will promote the creation and reproduction of top-notch art, franchises and works NFT customized with A-list celebrities with huge followings from the entertainment world.
Future, ApeNFT will also release various derivatives based on existing and upcoming art collections, allowing the NFT community to participate in the business ecosystem of ApeNFT.
Stage 4: Secure key for authorization and confirmation in the digital world
Besides promoting wider deployment of blockchain technology, at this stage, ApeNFT will be based on business activity NFTs mine.
Build and secure keys to ensure authorization and validation of digital works and at the same time make a foray into digital entertainment and traditional NFTs projects…
Founding team
ApeNFT was incorporated in Singapore on March 29, 2021 to respond to opportunities and to address pain points in the art industry.
President of ApeNFT – Steve Z. Liu, holds a master's degree from City University of New York and an MBA from Columbia Business School. He has worked for a wide range of leading international financial institutions including Fidelity International, Salomon Smith Barney, Nomura International, Libra Capital, etc.
With 25 years of experience in international and domestic stock markets, Steve established and managed business operations for many Chinese securities companies.
Most of the members in ApeNFT team are experts from the traditional arts industry and have experience in renowned arts organizations, such as Christie's and Sotheby's.
Key members of ApeNFT consists of engineers with experience in blockchain and coding from leading Internet companies such as BAT.
ApeNFT plans to invite influential researchers and art creators from around the world to join the advisory group ApeNFT.
With the goal of building an advanced art exchange stage to encourage creativity, raise the value of art works and lead the trend in the future art industry.
Partner


ApeNFT announced that their partners including Traditional Art Brands such as Sotheby's, Christie's, Nifty Gateway and Helutrans Artmove support the project to appraise, evaluate, acquire and store traditional works of art.
Besides that, ApeNFT also supported by major blockchain networks such as Bitcoin, Ethereum, Binance Smart Chain and Heco Chain.
Investor
Updating…
ApeNFT . project community
General information about tokens ApeNFT
Tokenomics
Token Name: APENFT Token
Ticker: NFT
Underlying blockchain: TRON
Protocol standard: ERC20/TRC20
Contract:
Tron: TFczxzPhnThNSqr5by8tvxsdCFRRz6cPNq
Ethereum: 0xEF40B859D21e4d566a3d713e756197c021BffaAa
Binance Smart Chain: 0x711D17c6EEE1Fa812db7A9e2EB9971e5D6252A05
Huobi ECO Chain: 0x1A5364F782DbED4f69043B02b5c3870a10C23Ed5
Token type: Governance Token
Total Supply: 999.990,000,000,000 $NFT
Circulating Supply: Updating…
Huobi Prime: 19,999,800,000,000 $NFT
Token Use Cases
Administration Tokens – Owners of $NFT will have the right to decide the management of the collections of ApeNFT, the acquisition, distribution and exhibition of works of art on-chain, as well as discretion over exhibitions, how and when to exhibit in the cyberpunk online virtual museum;
DeFi mining – The $NFT token will participate in the development of DeFi ecosystems such as Ethereum and TRON, and will cooperate with HECO and BSC to start mining activities on DeFi platforms;
Vote – $NFT holders will have the right to vote on the future direction of the collections, including the art style, genre, age, author and form of the artwork, and approve the method and amount of support provided;
Rewards – $NFT will be used as reward for holders of BTC, ETH, TRX and other tokens participating in ApeNFT. Governance reward will be distributed as appropriate to expand the scope of the project as well as the interaction with other ecosystems.
Token Allocation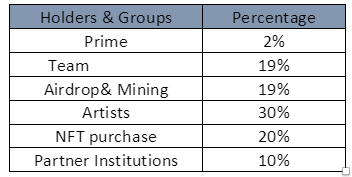 Token Release Schedule
Updating…
Conclude
NFTs is a very hot trend at the moment with many projects with ATH ROI up to thousands of percent.
ApeNFT is the background about NFT Collectibles Helping collectors own valuable art NFTs with a project development team with extensive experience in the traditional art and blockchain industries.
This can be a potential project to bring blockchain and NFTs into everyday life and promises to grow strongly in the future.
ApeNFT will participate in the $NFT token IEO on Huobi Prime platform on May 20, 2021 with:
Total Supply: 999.990,000,000,000 NFT
Total Transactions for Prime: 19,999,800,000,000 NFT
Available trading volume for each round: Round 1: 3,999,960,000,000 NFT;Round 2: 15,999,840,000,000 NFT
Price: Round 1: 0.000000072 USDT; Round 2: $0.000000132 USDT
If you want to follow the market trend and be the first investors to keep the $NFT token of this potential project, you can register to participate in the IEO on Huobi Prime.
Above is all the information that GTA Research team has researched about the project ApeNFT and is not investment advice. Hope this article will help you get the necessary information and give your personal opinion about the project.
GTA Research
See more: The return of the "legend" Huobi Prime
Join the discussion and stay up to date with GTA Ventures at:
Research
Trading
Channel: https://t.me/gta_trading_channel
Group: https://t.me/gta_trading_community
Facebook : https://fb.com/groups/tradecryptovietnam