What is 1INCH? Should I invest in 1INCH?
1Inch Network is one of the first Aggregators on the market and has worked very well in recent times. The project is also developing many new products to expand its business scale. In this article, let's find out with our team what is outstanding about 1INCH? Does the project have potential for investment?
What is 1inch.exchange?
1 inch exchange is the DEX Aggregator Protocol that allows users to trade tokens at the best prices on the market.
You can swap tokens here and also place buy and sell orders for various tokens. Your orders are not only waiting to be matched to the platform's order book, but also waiting to be matched on other DEXs (depending on your settings). Hence it can be said 1inch.exchange is a collection of decentralized exchanges (DEXs). With dozens of different orders, you can also swap, buy or sell a huge amount of different cryptocurrencies here at the best prices in the market and with low slippage.
Problems 1inch solved
Trading on DEXs and AMMs has now become extremely popular among users with different advantages over CEXs. It is self-regulatory, enhances security, and can trade a wide range of coins, optimizing profits in the market.
Some of the major limitations are that the order book is not large enough with extremely low liquidity, leading to high slippage on some AMMs and very expensive transaction fees at times when gas is high.
When every command is submitted to the blockchain, anyone can see a transaction before it is executed. This visibility makes any transaction vulnerable to being blocked because front runners can pay higher gas prices to prioritize their transactions to go first.
Ecosystem of 1inch
DEXs integrated into the 1inch protocol include Oasis, Kyber Network, Uniswap, Mooniswap, Balancer, and more. This means users can swap between nearly all ERC-20 tokens available on the market today. now on.
Native token 1INCH is both a governance token and a utility token
1inch also launched Chi GasToken (Tokenizing Gas Token) to reduce transaction fees on 1inch's platform.
The 1inch team also introduced Mooniswap, a new generation of AMM with virtual balance that allows the Liquidity Provider (liquidity provider) to capture the profits that arbitrageurs earn.
Besides Aggregation Protocol, 1Inch also develops many other products such as 1Inch Wallet, …
Thus, the ecosystem of 1inch, if completed enough, will be very diverse and powerful. Covering important areas in the DeFi ecosystem including AMM, DEX, Lending/Borrowing.
What is the transaction fee per 1inch.exchange?
1inch.exchange is a collection of decentralized exchanges (DEX). Therefore, the transaction fees you pay will depend on the Ethereum network and the DEX you used to execute your order. In addition, 1inch.exchange does not charge withdrawal fees, except for network fees. Network fees are not charged by the exchange, so the platform does not make money with these fees. However, users can save gas by using Chi GasToken 1inch.
Partner – Partner of the project
Backer – Investors

1inch.exchange raised $2.8 million in its first round of outside funding.
The investment was led by Binance Labs, as well as Galaxy Digital, Greenfield One, Libertus Capital, Dragonfly Capital, Alamenda Research, IOSG, LAUNCHub Ventures, Divergence Ventures, Loi Luu, founder of Kyber Network, and Illia Polosukhin, co-founder The founder of the NEAR Protocol also participated in this investment round. The first round of investments that followed this milestone of 1inch was $1 billion in total volume, the investment round marking a key point in the rapid growth of 1inch.
Tokenomics
Basic information about 1inch token
Ticker: 1INCH
Blockchain: Ethereum, Binance Smart Chain, Polygon
Token type: Governance, Utility
Token Standard: ERC-20
Total Supply: 1,500,000,000 1INCH ONLY
Circulation supply: 172,898,477 1INCH
Token Use Case
1Inch token is a utility token used in 1inch's ecosystem for various purposes such as:
Rewards: 1inch uses 1Inch as rewards for early Liquidity Providers on Mooniswap
Reduce Commission: Users can use 1Inch to reduce transaction fees on 1inch exchange.
In addition, in the future, if 1inch launches a lending protocol, users can use 1inch as collateral.
Token Allocation
30% of the total token supply will be for community incentive programs. Another 14.5% form development funds that will be used to grant grants and incentivize developers to build on 1-inch protocols. The remaining tokens will be distributed to initial investors and core contributors.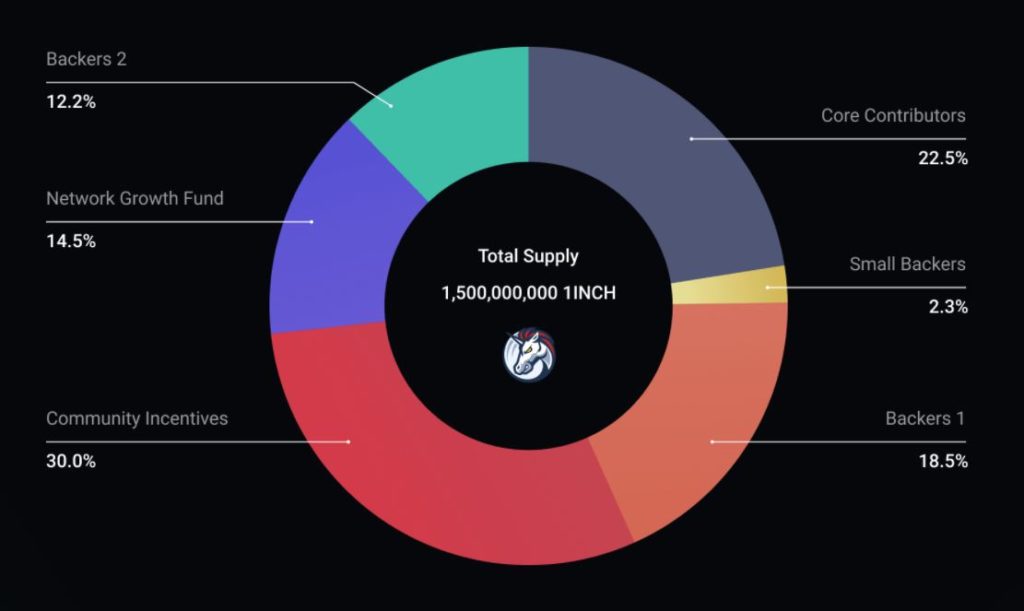 Current 1inch rate
Where to buy and sell 1inch tokens?
Currently you can trade 1inch at leading CEX and DEX exchanges such as: Binance, Huobi, Coinbase, 1Inch Exchange, Uniswap, Pancake, …
Website: https://1inch.io/
Twitter : https://twitter.com/1inchNetwork
Medium : https://blog.1inch.io/
Telegram: https://t.me/OneInchNetwork
Conclude
Launched in May 2019, 1inch has provided users with a solution to find the best price when trading tokens on different DEX platforms. Let's wait and see how 1inch will develop in the near future when Defi explodes again!
Here is all the information GTA Research team did research on the 1inch project and is not investment advice. Hope this article will help you get the necessary information and give your personal opinion about the project.